Kratom Urine Drug Testing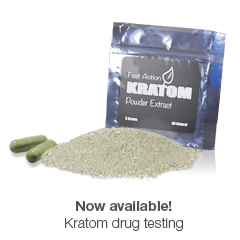 While currently not restricted under the Controlled Substances Act, the U.S. Drug Enforcement Administration (DEA) lists Kratom as one of its Drugs and Chemicals of Concern. Kratom (Mitragynine) is currently promoted on numerous websites as a legal, medicinal plant with psychoactive properties.
Despite being sold as a "natural" and legal high, Kratom is known to be a dangerous and addictive drug. Cases of "Kratom psychosis" in addicts, including hallucinations, delusions and confusion, have been documented.
With a suite of detection tools for emerging drugs, fast turnaround times, and an integrated reporting portal, we'll help automate your test processes. Let us help you create a reliable program that provides actionable information. Knowing now matters.™
Features & Benefits
Quantitatively detects presence of Kratom (Mitragynine), an emerging drug of abuse, sold online and at "head shops" nationwide
Advanced liquid chromatography - tandem mass spectrometry (LC-MS/MS) equipment provides definitive test results
Toxicologists and support representatives available to assist you
Wide range of customizable reporting and data management solutions to fit your needs
View service documentation online or download Adobe PDF files to ensure you have what you need to conduct effective drug test.
Test panel and Cutoff levels
Urine Test Panel
5960: Urine Kratom Test Panel
Drug Screening Panel
Methodology
Cutoff
Level
Kratom (Mitragynine)
LC-MS/MS
1 ng/mL
---
To learn more about Kratom Drug Testing call:
800.255.2159