Account Change Form
Update your account information today!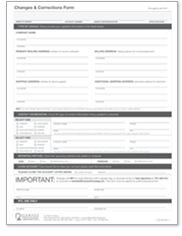 To ensure that we have the correct contact information for your account, we require a signed copy of the Changes & Corrections Form for any changes.
If you need to make any updates to your account, please email the Changes & Corrections Form to projectdesk@redwoodtoxicology.com or fax to 707-577-8102. Changes will not be made effective until a signed copy is returned via fax. This form must be signed by authorized personnel.
Download form