Fentanyl Drug Test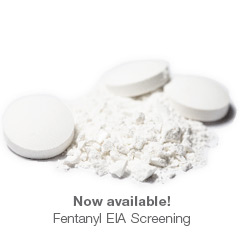 Fentanyl and its analogs are extremely fast-acting synthetic narcotic analgesics with high potency and short duration of action. These drugs are highly addictive.
Fentanyl, originally prescribed for chronic pain, is now widely used in an illicit manner. While it can be purchased on the street, fentanyl is available to healthcare workers and abused due to the drug's euphoric effects.
To screen and confirm fentanyl in urine, we utilize sophisticated analytical methods on state-of-the art instrumentation. Screening is conducted via enzyme immunoassay (EIA) and confirmation analysis is performed via liquid chromatography-tandem mass spectrometry (LC-MS/MS).
Features & Benefits
Detect therapeutic or illicitly synthesized forms of fentanyl (choose from 3 panels including expanded test targeting 28 fentanyl analogs)
Useful in many detection and monitoring situations: addiction treatment, methadone clinics, probation, parole, drug courts, and more
Definitive results with initial screen and confirmation by LC-MS/MS test methods
A wide range of customizable reporting and data management solutions to fit your needs
Toxicologists and support representatives available to assist you
Laboratory analysis provides confirmative evidence of use
Add fentanyl testing to your drug screening program today.
Frequently Asked Questions (FAQ)
Why test for fentanyl and its analogs?

Abuse of fentanyl and its analogs has amplified across the nation. The drugs offer similar effects to heroin and may serve as a more accessible substitute. Each of these powerful, and potentially lethal, synthetic opioids may be sold as a heroin substitute, oxycodone substitute, or cutting agent. While fentanyl is prescribed for chronic pain management, misuse and abuse is growing. Acetyl fentanyl is distributed as a designer drug and has no proven medical use. Fentanyl will go undetected in a routine opiate drug screen. Our state-of-the-art methodology will detect the presence of these drugs in urine or oral fluids.
Test panel and Cutoff levels
Urine Test Panel
2101: Urine Fentanyl Screening Panel
Drug Screening Panel
Methodology
Cutoff
Level
Fentanyl
EIA
1 ng/mL
5504: Urine Fentanyl Confirmation Panel
Drug Screening Panel
Methodology
Cutoff
Level
Fentanyl
LC-MS/MS
0.5 ng/mL
Acetyl fentanyl
LC-MS/MS
0.5 ng/mL
Norfentanyl
LC-MS/MS
0.5 ng/mL
Methoxyacetyl fentanyl
LC-MS/MS
0.5 ng/mL
Tetrahydrofuranyl fentanyl
LC-MS/MS
0.5 ng/mL
Acryl fentanyl
LC-MS/MS
0.5 ng/mL
Fluorofentanyl
LC-MS/MS
0.5 ng/mL
Furanyl fentanyl
LC-MS/MS
0.5 ng/mL
Isobutyryl fentanyl
LC-MS/MS
0.5 ng/mL
Butyryl fentanyl
LC-MS/MS
0.5 ng/mL
Valeryl fentanyl
LC-MS/MS
0.5 ng/mL
5554: Urine Premium Fentanyl Confirmation Panel
Drug Screening Panel
Methodology
Cutoff
Level
4-ANPP
LC-MS/MS
1.0 ng/mL
4'-Methylacetyl fentanyl
LC-MS/MS
0.5 ng/mL
Acetyl fentanyl
LC-MS/MS
0.5 ng/mL
Acetyl norfentanyl
LC-MS/MS
5.0 ng/mL
Acryl fentanyl
LC-MS/MS
0.5 ng/mL
Alfentanyl
LC-MS/MS
0.5 ng/mL
alpha-Methylacetyl fentanyl
LC-MS/MS
0.5 ng/mL
alpha-Methyl fentanyl
LC-MS/MS
0.5 ng/mL
beta-Hydroxythio fentanyl
LC-MS/MS
0.5 ng/mL
Butyryl fentanyl
LC-MS/MS
0.5 ng/mL
Butyryl norfentanyl
LC-MS/MS
0.5 ng/mL
Carfentanil
LC-MS/MS
0.5 ng/mL
cis-3-Methyl fentanyl
LC-MS/MS
0.5 ng/mL
Cyclopentyl fentanyl
LC-MS/MS
0.5 ng/mL
Cyclopropyl fentanyl
LC-MS/MS
0.5 ng/mL
para-Fluorobutyryl fentanyl
LC-MS/MS
0.5 ng/mL
Fentanyl
LC-MS/MS
0.5 ng/mL
Fluoroisobutyryl fentanyl
LC-MS/MS
0.5 ng/mL
Fluoro fentanyl
LC-MS/MS
0.5 ng/mL
Furanyl fentanyl
LC-MS/MS
0.5 ng/mL
Furanyl norfentanyl
LC-MS/MS
5.0 ng/mL
Isobutyryl fentanyl
LC-MS/MS
0.5 ng/mL
Methoxyacetyl fentanyl
LC-MS/MS
0.5 ng/mL
Norfentanyl
LC-MS/MS
0.5 ng/mL
Ocfentanil
LC-MS/MS
0.5 ng/mL
para-Chloroisobutyryl fentanyl
LC-MS/MS
0.5 ng/mL
para-Methoxybutyryl fentanyl
LC-MS/MS
0.5 ng/mL
Tetrahydrofuranyl fentanyl
LC-MS/MS
0.5 ng/mL
Valeryl fentanyl
LC-MS/MS
0.5 ng/mL
---
To learn more about fentanyl drug testing call:
800.255.2159