Reditest® 6 Cassette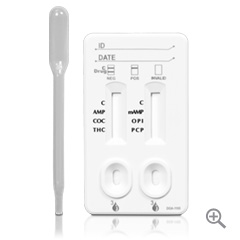 Ideal for Clinical Screening.The Reditest® 6 Cassette is a CLIA waived drugs of abuse testing device that enables you to easily and efficiently administer on-site drug screens.
The Reditest® 6 Cassette is ideal for treatment facilities, physician office laboratories and hospital laboratories looking for a reliable and low cost on-site testing solution.
Features & Benefits
Available test includes: *AMP, COC, THC, M-AMP, OPI and PCP
Simple to use pipette and cassette
Results in 5 minutes
In vitro diagnostic device for U.S. market and CLIA waived.
Additional Photos

Additional Information
6 Cassette Cutoff levels
The 6 Cassette device is a lateral flow chromatographic immunoassay for the qualitative detection of multiple drugs and drug metabolites in urine at the following cutoff concentrations:
| Test | Calibrator | Cutoff Level |
| --- | --- | --- |
| Amphetamine (AMP) | d-Amphetamine | *1,000 ng/mL |
| Cocaine (COC) | Benzoylecgonine | *300 ng/mL |
| Marijuana (THC) | Δ9-THC | *50 ng/mL |
| Methamphetamine (M-AMP) | D-Methamphetamine | 1000 ng/mL |
| Opiates (OPI) | Morphine | 2000 ng/mL |
| Phencyclidine (PCP) | Phencyclidine | 25 ng/mL |
* Meets SAMHSA cutoff levels
** Lower than SAMHSA recommended guidelines
Urine Testing FAQ's
Lab Based Urine Testing
| Item # | Analyte Name | Drug # |
| --- | --- | --- |
---
To learn more about the 6 Cassette screening device call:
877.444.0049