Subscribe to RTL product/service announcements
Have you heard the latest?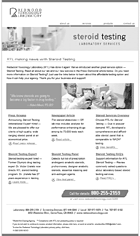 Information is a critical component in a successful drug testing program. RTL offers a great way for you to keep up to date on the latest announcements—email notification. This free service will keep you apprised of the following:
Service enhancements
New testing options
New product announcements
Opportunities for savings
Technical updates
If you are an RTL client or industry professional and are interested in this service, simply fill out the form below to subscribe.
---
**Occasionally, we may send information and/or samples by mail. Please include your physical address if you are interested in receiving additional promotions by mail.