iScreen® OFD Device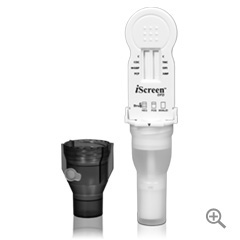 Convenient Detection. Redwood Toxicology Laboratory recognizes your need for a reliable and cost-effective oral fluid screening device. RTL's iScreen® OFD device, in combination with its lab services, provides you with a comprehensive drug test solution you can rely on.
Product Benefits
Eliminates need for controlled urine collection site
Results in under 10 minutes
Simple procedure
For Forensic Use Only
Any positive result obtained with this oral fluid screening test is presumptive and should be confirmed by an alternate method such as GC-MS or LC-MS/MS.
Additional Information & Resources
iScreen® OFD Cutoff Levels
The OFD iScreen® device is a lateral flow chromatographic immunoassay for the qualitative detection of multiple drugs and drug metabolites in oral fluid at the following cutoff concentrations:
Test
Calibrator
Cutoff Level
Amphetamine (AMP)
d-Amphetamine
50 ng/mL
Methamphetamine (MAMP)
d-Methamphetamine
50 ng/mL
Marijuana (THC)
11-nor-Δ9-THC-9 COOH
12 ng/mL
Phencyclidine (PCP)
Phencyclidine
10 ng/mL
Cocaine (COC)
Benzoylecgonine
20 ng/mL
Opiates (OPI)
Morphine
40 ng/mL
*Meets SAMHSA suggested cutoff levels.
Oral Fluid Confirmation
| Item # | Analyte Name | Drug # |
| --- | --- | --- |
---
To learn more about the OFD (iScreen®) device call:
877.444.0049
* Amphetamine, Marijuana (THC), Methamphetamine, Cocaine, Opiates and Phencyclidine.