AlcoMate® Premium 7000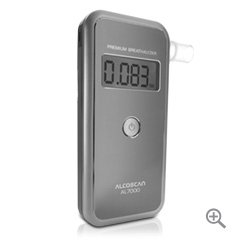 The AlcoMate® Premium 7000 Breath Alcohol Tester is a simple to use, one-button device that requires no calibration service. The PRISM™ Calibration Sensor is easily replaceable, and features automatic power-down functionality. The best part about the AlcoMate is it's DOT-approved1.
Features & Benefits
No calibration service required (PRISM™ Sensor Technology)
DOT-approved for law enforcement (accuracy ±0.01 at 0.10% BAC1)
Meets U.S. Coast Guard Requirements2
ISO 9002 certified
Cumulative test counter / audible alerts / low battery indicator
One-way-flow mouthpieces / internal mouthpiece storage slot
Use the AlcoMate® Premium 7000 in conjunction with Reditest On-Site Oral substance abuse screening devices for a complete saliva-based drug testing solution!
Kit includes: Breathalyzer, User's Manual, 2 x AA Batteries, 55 x mouthpieces, 1 pre-installed Sensor Module (PRISM™), 1 additional Sensor Module, hard plastic carrying case, car adapter, handstrap.
Call 877.444.0049 for pricing.
RTL also offers EtG/EtS Alcohol testing services.
1. Blood Alcohol Concentration (BAC).
For Forensic Use Only
Any positive result obtained with this oral fluid screening test is presumptive and should be confirmed by an alternate method such as GC-MS or LC-MS/MS.
---
To learn more about the Alcohol Breath screening device call:
877.444.0049